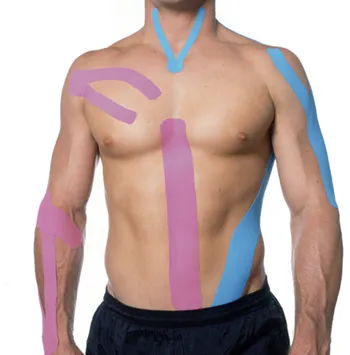 Have you seen the black, blue, and pink tape worn by many famous athletes? If so, this special tape is called Kinesio Tape. It was developed by Japanese chiropractor, Dr. Kenzo Kase. It is the first and original tape of its kind!
Dr. Brett Renze is a Certified Kinesio Tape Practitioner. The Kinesio Taping Method is a taping technique that is designed to improve healing within muscle tissue while providing support and stability to the musculoskeletal system. Kinesio Taping targets and stimulates receptors within the muscular system to reset muscle tension and length. Different effects can be seen within the tissue. These changes are dependent on the pattern and the tension used when applying the tape. The tape can be used to stimulate lymphatic drainage, and it can also be used to turn muscle activation up or down neurologically. It is an increasingly popular technique which many professional athletes are successfully utilizing. However, Kinesio Tape is not only for professional athletes. There are many applications for non-athletes, and many of Dr. Brett Renze's patients have been turned on to the therapeutic benefits of Kinesio Tape. Dr. Renze uses this special tape for a number of conditions including:
Plantar Fasciitis
Muscle Strain
Ligament Sprain
Rotator Cuff Syndrome
Tendonitis/Tendonosis.
Kinesio Tape has proven to be a critical adjunctive therapy